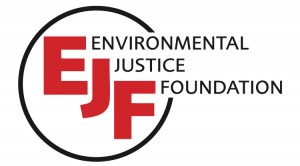 Environmental Justice Foundation
Politische*r Referent*in / Senior Policy Adviser (m/w/d)
The Environmental Justice Foundation (EJF) is an international environment and human rights charity, with a mission to 'protect people and planet'. EJF carries out in-depth investigations and campaigns to secure environmental justice in some of the world's poorest countries, where the destruction of natural environments undermines fundamental human rights.
---
Based: Berlin, with regular travel to EJF's Hamburg office
Contract: Full-time, permanent
Salary: €46,000 - 52,000
Reporting to: Executive Director
Benefits:
You will have the opportunity to develop and implement strategies and approaches, in consultation with the wider team.
Flat hierarchies
A great team of dynamic and engaged colleagues across our offices
Generous annual leave allowance increasing each year, plus 1 personal day per year
Cycle-to-work scheme
EJF is working to improve the governance of global fisheries in order to protect and restore marine ecosystems and support the people who depend on them. A key focus is the effort to eradicate illegal, unreported and unregulated (IUU) fishing and associated issues, such as human rights abuses. To do this, we work with governments and industry to promote transparency and traceability within seafood supply chains and markets. We conduct detailed investigations into illegal, unsustainable and unethical practices and actively promote improvements to policy-making, corporate governance and the management of fisheries along with raising awareness among consumers to incentivise market-driven solutions.
EJF's global team also works on a range of other campaigns where environmental insecurity impacts human rights. These include climate, forests, cotton and activist training.
Germany plays a critical role in all of EJF's campaign areas, as the world's fourth largest economy, the EU's largest Member State and its third largest seafood importer. The policies of its government and the decisions of its industry are therefore of global importance.
Position overview
EJF is looking for an experienced, determined and motivated person based in Berlin who has a deep understanding of German policy and decision-making. A large focus of your work will be on enhancing Germany's role in improving global oceans governance through increased transparency, however there will also be involvement in other EJF campaigns, such as climate and environmental justice. We are looking for someone with a passion for our work and the ability and talent to maintain and build EJF's network of relevant German decision-makers across the legislative and executive branches to achieve positive change for the long-term health of our oceans and natural environment.
You will deploy strategic and tactical thinking with a keen understanding of effective actions to help steer policy decisions in Germany for the good of our planet and that Germany as a key EU Member State will act accordingly at EU level. You will be expected to work closely with other NGOs to engage decision-makers.
Key responsibilities
Establish and maintain relationships with key political decision-makers in Germany (esp. those dealing with fisheries, the environment, development and trade) on the full range of EJF's oceans campaigns as well as for our climate and environmental justice work.
Create and disseminate tailored communications to decision-makers of EJF's campaigns to drive policy change with targeted audiences.
Propose and implement creative approaches and identify high-impact opportunities for outreach to decision-makers
Liaise with EJF's communications team to form relationships with individuals in relevant media outlets to present EJF's findings and recommendations.
Draft briefings, press releases, blogs and news pieces when needed
Research, contact and engage with strategic allies from civil society, industry and other areas to increase EJF's reach.
Monitor and identify opportunities with regard to policy and political developments, particularly in oceans-related policies, and provide political and legislative insights in support of possible engagement.
Essential skills and attributes
Minimum of 3 years' demonstrable professional experience in political advocacy or public relations towards German decision-makers, ideally on oceans, environmental, human rights or other relevant policy fields.
Excellent understanding of German, EU and international policy regarding fisheries, climate change and environmental justice.
Fluent written and spoken German and English and the ability to adapt writing style to attract and engage different audiences.
Proven ability to make dynamic and engaging presentations to diverse audiences.
Creativity and drive to seek out new opportunities to promote EJF's work.
Reliable, determined, self-motivated, resourceful and able to work effectively with a small, dynamic team with often minimal oversight.
Great attention to detail and factual accuracy.
Ability to work quickly to deliver time-bound results thanks to outstanding organisational skills.
Desirable skills and attributes
Good knowledge of EU policy-making and the EU institutions
Proficiency in another language of a key EU Member State
Contacts to journalists including across high-profile German publications
---
Applications: Please send your CV and cover letter (both in English) explaining why you are the ideal candidate and where you saw this ad to: recruitment@ejfoundation.org
Closing date: 23rd May 2021
Only shortlisted candidates will be contacted.
EJF is an equal opportunities employer, committed to diversity within the workplace.
veröffentlicht:
läuft aus am