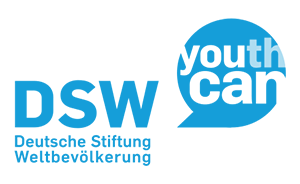 Deutsche Stiftung Weltbevölkerung (DSW)
International Communications Officer (m/f/d) (Berlin)
Deutsche Stiftung Weltbevölkerung (DSW) is a global development organisation that focuses on the needs and potential of the largest youth generation in history. We are committed to creating demand for and access to health information, services, supplies, and economic empowerment for youth. We achieve this by engaging in advocacy, capacity development, and reproductive health initiatives, so that young people are empowered to lead healthy and self-determined lives. With our headquarters in Hannover, Germany, DSW operates two liaison offices in Berlin and Brussels, as well as maintaining a strong presence in Ethiopia, Kenya, Tanzania, and Uganda.
---
he International Communications Officer supports the International Communications Manager with the development, implementation, monitoring, and reporting of projects within DSW, with particular emphasis and focus on the "State of African Women" (SoAWC) Project. She/he will help coordinate and develop brand awareness, with reference to online presence. The International Communications Officer must have a creative but also strategic mindset, and apply specialised communications knowledge to the creation of products that expand reach and influence among key audiences. This is an exciting opportunity for a passionate individual to initiate and create a real difference within this important area.
Areas of responsibility for the position include
Creation of project communication products and materials that increase audience/donor engagement. Continuously seek new and inventive ways towards achieving maximum awareness among target audiences for SoAWC.
Responsible for expanding media influence through the development of press releases, newsletters, op-eds, blogs, and building dialogues with journalists, bloggers, and influencers.
Expansion of online and social media presence. Responsible for identifying trends, measuring impact, and reporting progress (collating analytics and metrics).
Proofreading and editing print publications and online material.
Provide strategic communications support to the International Communications Manager
Requirements 
Must be media savvy with proven experience in creating a wide range of impactful media products, e.g. op-eds, press releases, blog posts, etc. 
Experience in content marketing, social media, and the publication process (digital/print).
Demonstrated strategic experience, especially towards implementing communications activities, project management, and engagement with a variety of stakeholders/consortia.
Able to create engaging copy, content, and visual material (e.g. videos).
Person Specifications
University degree or professional qualification in Communications, International Relations/Public Affairs, Journalism, Marketing, or in another relevant field.
Must be a native-level English speaker. Proficiency in German is required.
At least three years' experience working in communications
Exceptionally strong writing and copy editing skills in English (native level).
Willingness to travel to within the EU and Africa.
Supportive of DSW's mission, vision, and core values.
We Offer
A pleasant working atmosphere within a dynamic department
An interesting thematic area and international working environment
A competitive salary
---
If you are interested, please send your application in English and include: a CV, cover letter, and at least three examples of previous work you that you are proud of (links or attachments). Please reference the email "Communications Officer Application" and send directly to: jobs.deutschland@dsw.org. Deadline for application: January 25, 2019
Contract duration: One Year
Ideal start date: March 1, 2019
Please note: Non-EU applicants must be in possession of a full valid work permit for Germany.
DSW is an equal opportunity employer. We look forward to your application!
veröffentlicht:
läuft aus am